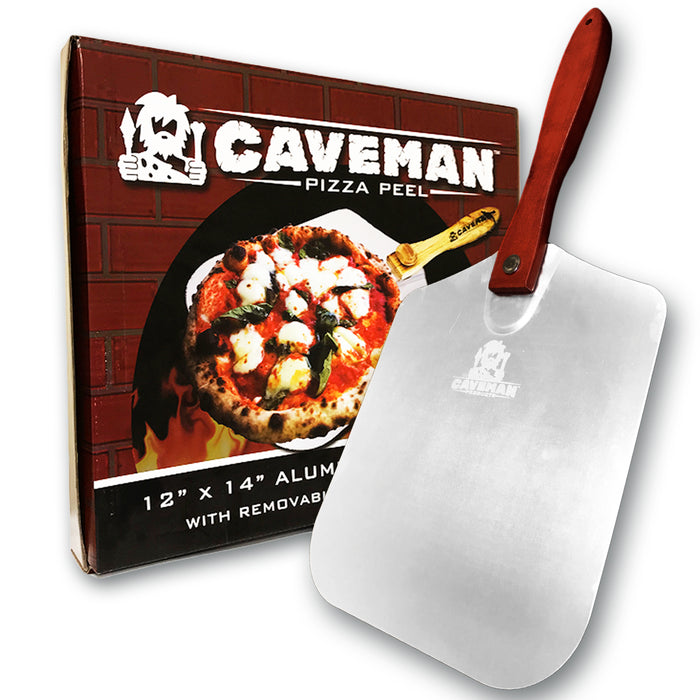 Metal Pizza Peel - Folding Wood Handle for Easy Storage - 12"x 14" Aluminum Paddle inc Beveled Edge
Time for a pizza party! This great pizza peel will help you make enough pizza for everybody, whether it's your kids or your restaurant, without burning your hands or arms getting the pizza into the oven. This peel features perforations in the blade for an even, crispy crust and a convenient folding handle for easy storage.
🍕 ANY PIZZA - Our 12" x 14" commercial aluminum paddles with folding natural wood handle is big and strong enough to handle almost any pizza you throw at it.
🍕 ALL OVENS - Cooking inside or outside this sturdy pizza peal works with any oven, grill, smoker, barbecue or wood fire pizza oven. Keep your hands and arms safe. A perfect pizza paddle for grill or pizza oven.
🍕 NOT JUST PIZZA - Our heavy duty peels works with pizza, bread, cakes, pies or pastries. Even works great as a cake lifter. A must have bbq accessories and pizza tools.
🍕 EASY CLEAN AND STORAGE - With our unique foldable wood handle design, you can quickly detach the aluminum shovel for cleaning or tossing in the dishwasher. Stores easily in your cabinets or drawers.
🍕 FREE PIZZA CUTTER – Our tough, stainless steel pizza cutter is included with every metal peel!
⭐⭐⭐⭐⭐ GUARANTEED 5-STAR EXPERIENCE - We eat, sleep and live outdoors! We are absolutely focused on bringing you the highest quality outdoor/indoor products available. That's why we back every one of our products with a LIFETIME Manufacturers Warranty.