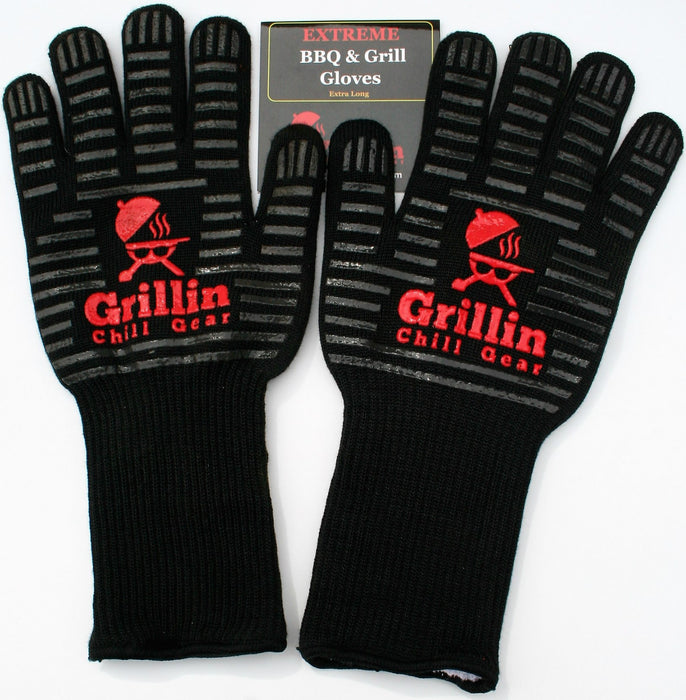 BBQ Grill Gloves (XL) - 932°F Extreme Heat Resistant For Cooking, Baking, Fires - 15" Long Forearm
Our Grillin Chill Gear Extreme Heat BBQ Grill Gloves are made from Nomex and silicon with a soft cotton liner and are rated up to 932F.
We designed these "one size" gloves for folks with large size hands and fingers.  This is the only size we currently sell. Gloves can be shrunk if too large by washing in hot water and low heat dryer cycle.
Our gloves are also 15" long; one of the longest on the market today.  This extra long size adds additional protection to forearms while reaching into the firepit, smokers, grill and wood fired pizza ovens. No singed hair here!
Use indoors or outdoors.  These gloves replace most all oven mitts and thin pot holders.  Our personal favorite in the kitchen for handling very hot pots, turkey pans, fryer baskets, turkey fryers, bakeware, oven racks and cast iron pans.
Easy to clean; just toss them into the washing machine "cold water" and air dry! (Do not place in the dryer as gloves will shrink!)
⭐⭐⭐⭐⭐ 5-STAR EXPERIENCE - If you aren't 100% Satisfied for any Reason, We'll Refund your Money